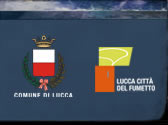 Your own wonderland!
Lucca is known throughout the world as a city of Art, History and Culture. Since 1966, however, Lucca has also been the undisputed City of Comics, and year after year has hosted an event dedicated to strip cartoons that is acknowledged to be the most important and exciting of its kind in Italy.
A long and impressive story that has made Lucca one of the world's capitals of comics, thanks to the enthusiasm and skill of international experts, publishers, authors, critics and fans - a position it has achieved because of its ability to identify the best, most exciting signs of things to come, first with the addition of Illustration to Comics and Animation, then, in 1993, a new important section, Lucca Games, dedicated to role-playing and simulation. Soon after, this was joined by Lucca Junior for children.
Almost four hundred exhibitors from all over the world, spread out over 16,000 square metres of covered area, large exhibitions mounted in important buildings in the historic centre of Lucca, meetings and discussions, innumerable new publications, meeting with the many authors who take part in the exhibition, more than 400 accredited journalists and more than 85,000 visitors - these are the current statistics for LUCCA COMICS & GAMES, statistics that have made Lucca a must for cartoonists, game writers, publishers, scholars, opinion leaders and fans.
Together with the new Italian Museum of Comics, set up in 2001, Lucca Comics & Games is now a great cultural event representing arrival in a journey that began forty years ago. And above all, the beginning of a new adventure that makes Lucca the fantastic City of Comics and Games - in the heart of Tuscany, in the heart of Italy, in the heart of fans all over the world.